UK tech startup adds dynamic virtual hybrid workspaces to its digital events offering
October 2021, Manchester, UK PixelMax , one of Manchester's fastest-growing tech start-ups, has released latest product offering , which uses its 3D communications platform to address the issue of hybrid working.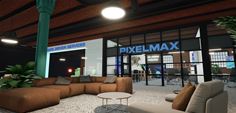 PixelMax Virtual Offices
PixelMax announced its solution to the hybrid working conundrum at its launch event to business owners, directors, and other guests from various market sectors.
Through avatars or shared experiences, PixelMax's 3D hybrid workplaces will enable corporate communities to interact and develop in real time. It provides an always-on digital environment and investigates how enterprise use cases might benefit from the metaverse concept.
With its 3D virtual events platform, the company has seen significant growth over the past 18 months. As a result, it has been shortlisted for both the Pivot Entrepreneur Award and the 2021 Rapid Growth Award at the Great British Entrepreneur Awards.
PixelMax released an virtual fan event for the UEFA Womens Champions League Final in May of this year with industry-first capabilities that let fans interact with some of the biggest personalities in women's football. PixelMax has responded to customer demand by further improving its platform to provide always-on 3D worlds after seeing so much success with one-off events .
According to Shay OCarroll, co-founder of PixelMax, "Our 3D worlds give consumers a fascinating and immersive experience." Early on in the process, we have architects that collaborate with a client to create the ideal place and experience for their business.
Now that so many individuals are working in hybrid roles, we are thrilled to be able to offer this quality and inventiveness with our always-on 3D worlds. Businesses are realizing that it is time to make significant investments in the digital space where their employees spend the majority of their working hours.
In our opinion, for hybrid working to be successful, we must reach a stage where there is no disadvantage based on geography and where there is an even playing field whether you are working in the office or remotely. This is made feasible via our online workspaces.
PixelMax provided attendees with the opportunity to explore the 3D environment and learn about the technology underlying its solutions during the hybrid launch event, as well as to take advantage of special features and networking opportunities like mini games and live conferencing.
The event's roster was packed with live speakers, including Ben Davies, Group Marketing Director at Praetura, Sarah Clarke, Organizational Psychologist at Occupational Mind Group, and Andrew Mawson, Founder of Advanced Workplace Associates.
The PixelMaxs event had a variety of elements, one of which was a wellness area where Sarah Clarke shared her perspective on wellbeing in the hybrid world. The Atacc Group , a specialist in first response training, was among the PixelMax success stories featured in a unique case study section. After creating a custom 3D environment for the business, PixelMax gave the Group's clients access to training in a fun and immersive way, ultimately preventing skills rust.
Visit https://www.pixelmax.com/ to learn more about PixelMax's new product line.
ENDS
About PixelMax Andy Sands, Shay O'Carroll, and Rob Hilton founded PixelMax in 2018. The company recently increased its team size to about 40 individuals and is now prepared to do so again in 2022. Leading international pharmaceutical and healthcare brands are just a few of the blue-chip companies that PixelMax has already worked with.
The platform, which will generate close to 40 employment in the city, aims to magnify and enhance all facets of communication, education, and recreation while making every encounter within an organization significant.
Go to https://www.pixelmax.com/ for more information.
Jargon PR's number for media inquiries is (0) 1189 73 93 70.