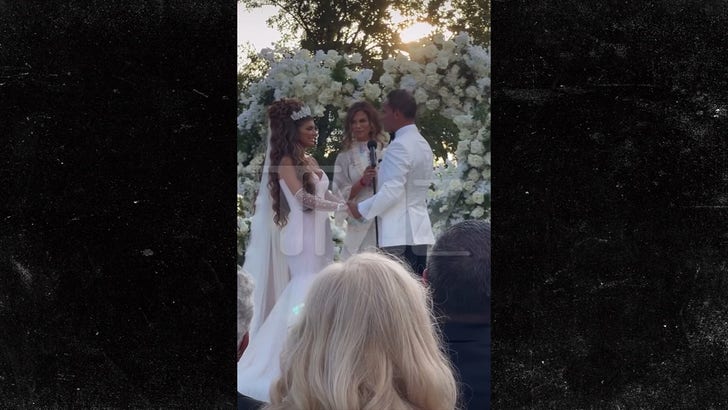 TMZ.com
The Real Housewives of New Jersey star Teresa Giudice recently got hitched, and TMZ has video of the ceremony.
In front of 200 family members and friends, Teresa and her fiancé Luis Ruelas were married on Saturday night at the opulent Park Chateau Estate and Garden in New Brunswick, New Jersey. The marriage was officiated by Dr. Veronica Ruelas, a sister of Luis.
As Veronica read their vows, our footage showed the couple face-to-face, holding hands, and encircled by white roses.
After Teresa accepted Luis as his husband, best friend, and life partner, his sister turned to her after Luis said, "I do."
Teresa said, "Yes, I do," with a smile. Veronica rose to fame as a comedian. To ignore the copious amounts of dog hair on your white furniture?
Prior to Veronica wrapping up and making it official, Teresa giggled and repeated, "Yes."
I'm awaiting your approval before loading the Instagram media.
Teresa, who was wearing all-white clothing with a long veil and a tiara, looked absolutely stunning. Luis also didn't look too bad in his black slacks and white blazer outfit.
Naturally, Teresa's four kids, Gia, Gabriella, Milania, and Audriana, were present and dressed in pale pink gowns. David and Nicholas, two of Luis' sons, took part in the celebrations as well.
After Teresa had walked down the aisle to the strains of violins and the song, "Ave Maria," to remember her late parents, the children assisted in lighting the ceremony's unity candles.
Dorinda Medley and Jill Zarin, as well as Jennifer Aydin, Dolores Catania, and Margaret Josephs, who co-starred on "Real Housewives of New York," reportedly attended as well.
Teresa had previously walked down the aisle. As you are aware, she divorced her first husband, Joe, who is now a resident of Italy after being deported as a result of his federal tax fraud conviction.